We are partners of Rodenstock: BIOMETRIC PROGRESSIVE VISION – BUT SAFE
At Braun Opticians', your good vision lies in the best hands.
Because Braun Opticians is being much valued as expert partner for biometric varifocal glasses by Rodenstock.
Here, technical equipment and know-how at the highest level always await you.
Print the voucher here and bring it along to the consultation, please.
Silhouette: Try it. Wear it. Love it.
TMA-Futura: A look ahead
Silhouette lets its iconic glasses shine in new splendor:
The flamboyant, futuristic look of the 1970s' originals shows on these breathtaking designs to its best advantage.
With the spacy full rim frame and the expressive cut-out over the broad nose bridge, the unisex glasses with its dynamic, enthralling look rise to the position of a true statement-piece. The earpiece without hinges creates an exciting contrast to the extensive centerpiece, furthermore ensuring exceptional wearing comfort.
TMA couples high quality with innovative design. The focus is on the protection of your eyes. The TMA's especially devised transmission ranges provide for the pleasant brightening effect and brilliant, lively colours despite the ideal glare protection.
#silhouetteeyewear
Silhouette: GERMAN DESIGN AWARD 2020: Silhouette TMA – The Icon.
Titan Accent Shades stands firm to be the winner of the prestigious design prize competition in the category Excellent Product Design – Lifestyle and Fashion. This collection creates a charming duet of unique design and innovative technology. Innovations, coupled with the highest quality and a particular love for detail, make Silhouette a clear winner in the range of premium eyeglasses.
The shapes shine with their stylish look, inspired by the wings of a Peruvian butterfly. Additionally, they score with the favoured earpieces of TMA – The Icon.


The enormously high quality of the sunglasses ensures the Silhouette Light Management® function, thus protecting the eyes even better against harmful UV radiation. Perfect anti-glare protechtion, a pleasant brightening effect and brilliant, lively colours are combined in the Silhouette TMA Icon eyeglass lenses.
#silhouetteeyewear
20 Jahre TMA – Titan Minimal Art
Millions of people all over the world wear them: the TMA. Braun Opticians' present you the world's most famous rimless glasses.
Using the FULL FRAME LOOK.
These glasses have been systematically developed by Silhouette.
They are sometimes discreet, sometimes flashy, but always innovative, perfect and perceptibly light.
The colours of both the extravagant ladies' models shimmer in soft shades. The glasses' mix of Cat Eye and angular form is highly fascinating.
Discover more: Silhouette
Hightech in the hearing acustics department: Aurical Otocam 300
The video-otoscope has got a powerful light source, thus ensuring a high-resolution video recording of the auditory meatus and of the eardrum. These video recordings are absolutely necessary for
an optimal hearing aid fitting and
precisely customized hearing protectors.
For consultation of the highest quality and a professional fitting experience.
At your Braun Opticians'.
Please, find more detailed information on the video-otoscope on our website under hearing acoustics.
Quelle/© otometrics.natus.com
Quelle/© otometrics.natus.com
FOR FREE: Monthly lenses Bausch + Lomb ULTRA®
Perform the ULTRAmative test!
Do you wish for perfect visual acuity under any lighting conditions and comfortable vision the digital day-to-day life?
Do you also wish for the correction of close, vision, distant vision, and astigmatism?
In that case, test now, quite simply and without any obligation, the brand-new ULTRA® contact lenses by Bausch + Lomb at your Braun Opticians'.
This innovative monthly lens is ideally adapted to our digital day-to-day life. Even despite extensive utilization, Bausch + Lomb Ultra® lenses ensure long-lasting clear vision and a pleasant wearing comfort – so that your eyes can see, experience, and enjoy every detail.
See for yourself!
Make an appointment with us for the adaptation of the contact lenses. Gladly, we practise the handling of the contact lenses with you as well – for your successful start with the Bausch + Lomb ULTRA®.
We are looking forward to seeing you!
Totally "EN VOGUE" – sunglasses are "in"!
Summer is coming, bringing with it new sunglasses that are very chic and have a cutting-edge design.
Discover the sparking new collections of all the famous manufacturers at your Braun Opticians': RAY-BAN, Oakley, Persol, Versace, Prada, Dolce & Gabbana, needless to say, VOGUE as well, and other brands.
Many beautiful models of sunglasses and your team of Braun Opticians are awaiting YOU!
If desired, you may obtain nearly all sunglasses with optical glasses, too.
Fancy a new eye colour?
Discover AIR OPTIX COLORS by ALCON – contact lenses for breathtakingly beautiful eyes and a natural colour result.
From now onwards, your new look is available in 12 magnificent colours!
AIR OPTIX COLORS are especially breathable and ultra-smooth. The surface of the lens is coated with an ultra-thin protective shield and withstands residues and lipids.
For long-lasting wearing comfort, every hour, every day, all month long.
Your team of Braun Opticians' gladly provides advice.
Discover AIR OPTIX COLORS by ALCON – contact lenses for breathtakingly beautiful eyes and a natural colour result.
From now onwards, your new look is available in 12 magnificent colours!
AIR OPTIX COLORS are especially breathable and ultra-smooth. The surface of the lens is coated with an ultra-thin protective shield and withstands residues and lipids.
For long-lasting wearing comfort, every hour, every day, all month long.
Your team of Braun Opticians' gladly provides advice.
OTICON – "My little audio secret"
Proficient service – Permanent hearing pleasure: Innovations from the quality company OTICON 
Do you sometimes have to make an effort to follow conversations?
Do you feel tired and exhausted after a party where everybody was talking at once?
Do you turn up the volume of your television set?
The company Oticon offers you brand new, invisibly small hearing aids now. For your new feeling of being alive. Hear quite naturally, without somebody being able to guess by looking at you.
We manufacture individual hearing protection as well: for musicians or simply for your quiet, relaxed sleep.
We look forward to seeing you: Your master of hearing acoustics and your team of Braun Opticians'.
Make an appointment with us:
Phone +49 821 33253; contact form
Iconic sunglasses by OAKLEY – You never ride alone
New OAKLEY collection completely arrived!
Lenses by Oakley help you see more: more details, a greater depth and better resolution – by optimizing the lenses for special surrounding areas. This is also the reason why sunglasses are not only considered accessories today, but are basics belonging to life – in everyday life and during sports.
Shop lenses with complete UV protection to keep your eyes damage-free.
Ray-Ban: the new era of sunglasses
Make either side your best side: With Ray-Ban sunglasses you are always camera-ready.
The brand-new collection combines the characteristic features of Ray-Ban with the new look:
The lenses are polarised, metallised, conventional or available as gradient lenses – everything is possible! Try the stylings "Clubmaster", "Clubround", "Wayfarer", and "Aviator".
Of course, with the new UV protection "Premium Anti-Reflexion RAY-BAN®".
Ray-Ban sunglasses simply stand out because they are true Icons.
No matter where you are, Ray-Ban sunglasses are always in the center:
Draw looks from everyone. Ray-Ban sunglasses can see things from every angle.
Eye care – let your eyes take the easy way out
In the uncomfortable cold season, we rather stay in warm heated rooms – the ideal condition for dry and tired eyes. In addition, there is the sensitive response of our eyes to concentrated work on the screen, when driving or reading.
We can avoid these health complaints in the cold season!
We have agents with which to moisturise the eyes and to care for the eyes and for the edges of the lids so that the eyes don't feel dry.
Open your eyes for blink® eye care!
We offer you blink® wetting agents by means of the blink® eye care product range, with moisture reservoir for supplying your eyes long-lastingly with moisture.
Blink® eye care products are very well tolerated and protect your eyes.
Enjoy the feeling of freshness and extra lasting comfort.
Gentle cleaning with Lipo Nit® eyelid care
The health of your eyes is very important for us. For better moisturisation of your eyes and to prevent swollen or sore edges of the eyelids we recommend you to care for your eyelids with Lipo Nit®.
A very important element of the tear film is the fatty upper layer. This layer ensures that the tear fluid does not evaporate too fast. This secretion is produced in tiny glands, which are located on the lower edges of the eyelids. Gently clean the edges of your eyelids with a cotton bud, which you have just sprinkled with Lipo Nit® eyelid care.
For the well-being of your eyes.
Johnson & Johnson is looking ahead with you – with lenses that change everything
ACUVUE OASYS® 1-Day with HydraLuxe™ technology
The new innovative daily contact lens for the digital every life and miscellaneous activities ensures clear, stable vision at each change in the viewing direction – even in case of astigmatism.
Of course, with class 1 UV-protection: 90% UVA, 99% UVB.
Available packaging sizes:
30 and 90 contact lenses.
Tear-infused design
A refined moisture reticulation, consisting of molecules similar to tears and highly breathable, hydrogenated silicone connects with the precorneal film of the contact lens wearers daily. Molecules similar to tears imitate mucins with high water binding capacity to support a stable precorneal film.
Thus, ACUVUE OASYS® 1-Day can help to prevent symptoms like tired and dry eyes. Furthermore, the feeling of fresh and moistened eyes remains.
The surface of the new ACUVUE OASYS® 1-day is ultra-smooth – similar to the human cornea. Thus, it enables effortless blinking throughout the day, as the eyelids slide very easily and effortlessly over the contact lens.
For fatigue-free eyes, the whole day long.
ACUVUE® VITA™ with HydraMax™ Technology
For a lasting superior wearing comfort, for the entire month.
Of course, with class 1 UV-protection: 93.4% UVA, 99.8% UVB.
Available packaging size:
6 contact lenses.
Quelle/© Johnson & Johnson
ACUVUE® VITA™ with HydraMax™ technology is the new monthly lens for you, if you want to wear your contact lenses comfortably during the entire 4 weeks. It uses an uncoated silicone hydrogel material, the composition of which the moisture content maintains maximized.
Take advantage of the superior wearing comfort – the entire month.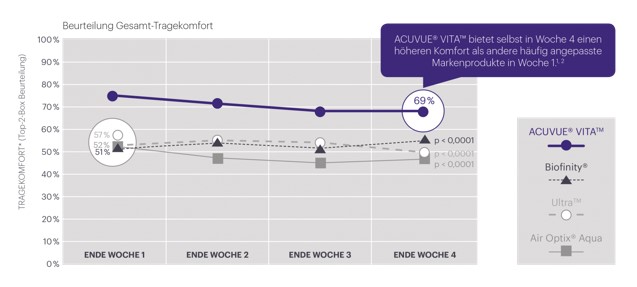 CAZAL – Absolutely authentic
Let's capture your imagination with the excellence of Carl Zelloni, the creator of the typical hip hop look of the style-defining CAZAL glasses in the 80s.
Trends come and go. A style remains. Unconventional eyewear with a high recognition value are the result. They stand out due to their individuality and extravagance, they are elegantly designed, and they impress with their own character. Due to the usage of first-class materials like titanium or gold and their elaborate processing, our designs for ladies and gentlemen guarantee the highest quality.
CAZAL – The original
Do you place importance on authenticity when buying spectacles? Buy your design eyewear at Braun Opticians to obtain a genuine CAZAL with absolute certainty.
CAZAL – The latest collection with the extraordinaire style at your Braun Opticians. We look forward to seeing you.
OCULUS Vissard 3D – high-tech 3D eye measuring for day and night with 4K and full HD
The OCULUS Vissard 3D is a professional optical checking device for the determination of the refraction in daylight and under reduced lighting conditions. The best imaging quality enables the optimal presentation of the various visual acuity tests, due to high-resolution 4K or full HD displays. These include, in addition to the reality eye tests like the "number plate reading", 3D-tests for checking the binocular vision (binocular = with both eyes), as well.
Pupil size and distance can be automatically determined with the optional camera both in daylight and during refraction in the dark.
Enjoy the most convenient eye measuring at Braun Opticians. Never has eye measuring been so accurate and relaxed.
Attuned to your visual requirements at your PC, iPad or smartphone. Greatest focal depth and brilliant colour vision allow for top visual performances when doing sports, in your leisure time and your profession. Experience maximal stereoscopic vision.
This is a good reason for you to come to us for a free consultation.
Vissard 3D. Fulfils the requirements. Exceeds expectations.
Discover the EYEWEAR COLLECTIONS of the famous manufacturers:
Let our skilled staff support you choosing the RIGHT glasses – individual and with an assured sense of style.
Welcome in the comfort zone
Who doesn't know that? Even after a short period of time in front of the screen, the neck tenses up, the eyes start to burn and the head starts to ache.
No matter whether you are at the workplace or if you enjoy your leisure time – your vision will be maximally relaxed during each activity at close and at intermediate range, thanks to the new Rodenstock computer glasses with blue filter.
Varifocal glasses:
Wearing varifocal glasses, you will see smoothly and steplessly from near to far. However, the range of vision is relatively narrow in the reading distance and at intermediate range.
Computer glasses:
The perfect addition: Ergo® near comfort lenses by Rodenstock are especially aimed at computer work. Accordingly, they offer a large field of vision in the near and intermediate range.
New for you at Braun Opticians: DAILIES TOTAL1® –
the contact lens that feels like a breath of nothing
DAILIES TOTAL1® – the first and only lens with water gradient – is now patented in Europe. The innovative technology "made in Germany" has special advantages:
an increasing water content of 33 % in its core, exceeding 80 % on the surface, with nearly 100 % on the outmost surface of the lenses,
the highest oxygen permeability of all contact lenses for daily disposable wear,
the exceptionally smooth, residue resistant surface provides highest wearing comfort – even at the end of the day.
You may also obtain DAILIES TOTAL1® as multifocal lens at Braun Opticians.
Safety with hyper-gas permeable lenses by Menicon!
The health of your eyes is our ultimate aim. Therefore, we provide you with specially designed rigid hyper-gas permeable lenses.
These consist of the Menicon-Z-material, which excels in its extreme oxygen permeability. This material is the precondition for your eyes to be unrestrictedly supplied with oxygen, thus staying healthy, white and clear.
Hyper-oxygen permeable lenses by Menicon possess convincing Advantages:
| | |
| --- | --- |
| • | Most comfortable to wear |
| • |  Oxygen permeability as if you would not wear any contact lenses at all |
| • |  Optimal, quick renewal of the lacrimal fluid (tear fluid) between your eyes and the contact lenses |
| • |  High resilience against debris, high impact hardness |
| • |  Long wear schedules, even over night |
| • |  UV filter |
Optical flow sheet:
optimal adjustment of Menicon Z contact lenses
Braun Opticians contact lens shop – Alcon (CIBA VISION) – up to date!
Our well-known Partner CIBA VISION is called Alcon now.
We have interesting offers and brand-new products for you in stock at Braun Opticians in Augsburg, Bahnhofstraße 14.
J&J – latest trends
The manufacturer Johnson & Johnson is stopping the production of ACUVUE® ADVANCE® and ADVANCE® for ASTIGMATISM soon.
Just yet, we are presenting to you all the new trends and the brand-new Oasys-contact lenses by J&J at Braun Opticians in Augsburg, Bahnhofstraße 14.
Discover urban freedom!
We have the pleasure to present you the brand-new collection from Silhouette
which is available for you at Braun Opticians with immediate effect.
We sincerely hope you enjoy choosing and trying on these wonderful spectacle frames!
The video from Silhouette offers you a taster.
©Silhouette
Sports goggles
Braun Opticians provide you with many special solutions for sports eyewear, particularly for the most popular sport "golf". Attractive golf tournaments with an exclusive offer for the members of the GolfRange facilitate these activities. We have published the fotos here for you.
We are happy to answer your questions and give you feedback on your requests. Just write us using our contact form.
Of course, you will find many further offers in our shop:
Offers of sunglasses with branded frames of your choice.
New product lines of the trade fairs in Milan and Munich.
Multifocal contact lenses for good eyesight in the distance and in the vicinity.
The novel eyeglass lenses for the distance from the Zeiss Company. For wonderful moments.
Ultra-light and functional, frame designs with combined clip-ons.
Oakley goggles with your individual lens strength and for any kind of sport and many other things.
Klicken Sie hier um Ihren eigenen Text einzufügen